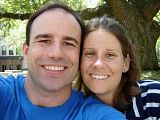 I am sure many of you are probably getting tired of reading about our wedding and may even be wondering if we have anything else to talk about... so.... I decided to take a reprieve from the post wedding update and tell you about our trip to Waco last weekend. Nothing too exciting happened, but it was a nice little escape from Dallas and I did get to hear some dirt on Daniel.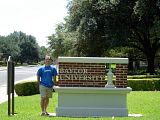 Why did we go to Waco you ask? Well, Daniel is a Baylor graduate as are a number of his friends. Al and Karla, two of Daniel's close friends, decided to celebrate their birthdays in Waco with some of their college buddies. So, Daniel and I joined them for dinner at George's and a visit to some of their favorite college hang outs. I had the opportunity to see where Daniel lived in college and to have some coffee from Common Grounds.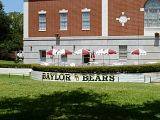 Sunday, Daniel and I attended church at University Baptist Church. David Crowder leads worship there when he is in town and this past Sunday he happened to be there. Daniel and I both really like David Crowder so it was kind of a treat to see him at UBC. After church, Daniel took me to the Baylor campus to show me around. We went to the bear pit, but it was just too stinking hot for the bears and they were asleep in a cave. We were able to see them through the glass, but I was hoping to see them up close and personal. We walked around campus and took a few pictures, but it was SO HOT! We then met up with Al and Karla and some of the other Baylor bunch at Ninfa's for lunch. Mmmm....mmmm...good!
After lunch we got back on the road and headed for home with a quick stop in Hillsboro at the outlet mall where we purchased Casting Crown's new CD and some Starbucks!