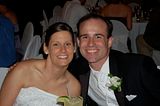 While Gloria was running around Dallas with all the other bridesmaids I was running around taking care of the things all the bridesmaids didn't have time to do. I drove to pick up things for our honeymoon. I packed for our honeymoon. I dropped our honeymoon bags off at the hotel the day of the wedding.

The rehearsal dinner was at Celebration Restaurant, one of my family's favorite restaurants. We had a great time that night.
On the morning of the wedding, I was a little anxious mainly about making sure I hadn't let a detail slip like forgetting to pack something important. Nothing disastorous happened so that was a bonus. My best man and his wife (Al and Karla, see pic with Gloria's parents)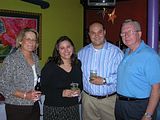 decided to bring my breakfast that morning and come and see the apartment that Gloria and I would be living in after the honeymoon. Well they ended up having some trouble with the directions I gave them and the 15 minute trip took them 45 min. (sorry guys). That was probably the worst mishap of the day.